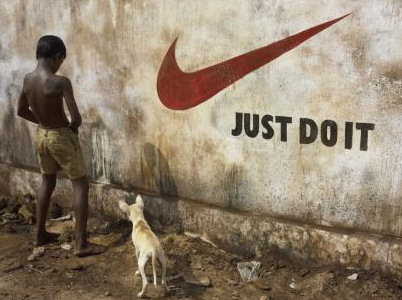 Nike couldn't wait to wade into the Rutgers-Don Imus scrape. They didn't want another second to pass by with people wondering what side of the debate Phil Knight's company was on. What better way to enlighten America to your feelings than taking out a full-page ad in the Sunday New York Times?
Thank you, ignorance. (For making this ad more than just an ad)

Thank you for starting the conversation. (Just be thankful we didn't transcribe it)

Thank you for making an entire nation listen to the Rutger's team story. And for making us wonder what other great stories we've missed. (Or what other grammar classes, for that matter)

Thank you for reminding us to think before we speak. (But not before we write)

Thank you for showing us how strong and poised 18 and 20-year-old women can be. (And how sloppy 38 and 40-year-old copywriters can be)

Thank you for reminding us that another basketball tournament goes on in March. (Because clearly we didn't see it)

Thank you for showing us that sport includes more than the time spent on the court. (There are also parties, rallies, lunch but no English composition classes)

Thank you for unintentionally moving women's sport forward. (Thank you for unintentionally moving men's and women's grammar backward)

And thank you for making all of us realize that we still have a long way to go. (Amen)

Next season starts 11.16.07 (Summer school starts 06.06.07)
Maybe they should have spent another minute or two proofreading before rushing this thing out to the Times. I guess Nike doesn't Just Do Spellcheck.