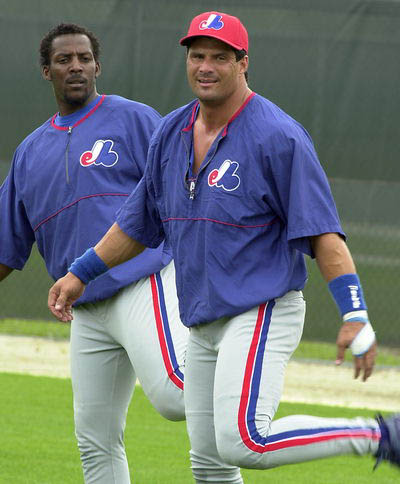 Most of your baseball previews are playing their hearts out but they stop at 10. Where can these other blokes go? We like to push things over the cliff at The Feed though so you know what we do? That's right. We turn it up to 11. Three things to like, three things to worry about, three questions to answer, one kid on the farm and one predicted finish. That adds up to the most powerful preview you can find. Because it goes to 11 and there's none more louder, really, than 11. Check the rest of 'em out here.
3 Things To Like
John Lackey. He doesn't have the name of a dominant starter but he does have the stuff of one. He made a huge initial splash in the 2002 World Series run and hasn't looked back since, using a lot of strikeouts to keep the ball in the park and needing only better run support to challenge the 20-win mark. Johan Santana has the inside track on every AL Cy Young Award but Lackey should be among the other votegetters come November.
Vladimir Guerrero. Batters that make contact with the ease Vlad does simply aren't supposed to do so much damage when they hit the ball. Usually they are content to be speedy singles hitters but Guerrero remains one of the most feared power hitters in baseball even though he swings at more first pitches, second pitches and all pitches than anyone else. He'd be better if he took a few more unintentional walks but at the end of the day you don't fret too much about guys who produce at his level.
Jered Weaver and Howie Kendrick. Lackey and Guerrero represent the present of the Angels while Weaver and Kendrick represent the very near future. Weaver made the bigger splash as a rookie but Kendrick's swing has many predicting batting titles to go with his clever glovework and sneaky power. As for Weaver, he sent his brother packing (although Jeff did get a World Series ring as a parting gift) and got the Angels back into the playoff race last year, heady feats for a guy who hadn't been in the bigs before.
3 Things To Worry About
Gary Matthews Jr. Here's the thing about Matthews: Even before the word hit that Sarge's son was likely using more juice than Al Gore's compound the contract he signed with the Angels was a drastic error. Matthews outperformed his previous efforts by so much last season that no reasonable person could have seen it as anything but an aberration, chemical or otherwise. He'll provide great defense in center but will never be seen as anything but a disappointment when his bat returns to its natural level.
Garrett Anderson. A previous beneficiary of Stoneman's largesse, Anderson is due $26 million over the next two years and is a liability both in the field and at the plate. He would have split time with Juan Rivera and Shea Hillenbrand in left and at DH but Rivera's broken leg means that the Angels are relying on Anderson's balky back and eroding skills every day until the All-Star Break or so. Neither Anderson nor Hillenbrand is good enough to hit behind Vlad, either, which will mean he's swinging at more intentional walk bids this season.
Injuries. Rivera, Chone Figgins and Bartolo Colon are all going to start the season on the disabled list. Anderson and Guerrero have a history of back troubles and Weaver will miss his first couple of starts with a sore arm. That's a long list of aches and pains for April and leaves the team searching for answers at several important positions.
3 Questions To Answer
Is Casey Kotchman a major league first baseman? He's only 24 so it feels odd that it seems like Kotchman has been trying to make a splash with the Angels since Brian Downing and Bobby Grich still wore halos. He had mono last year which limited him to 88 plate appearances but it was his third underwhelming tour of duty in as many years so there's serious reason to doubt that he will ever come around. If he doesn't the Angels will be getting subpar production at first, third, left and DH which would leave the lineup quite short on runs.
Which Orlando Cabrera will show up this year? When the Angels picked up Orlando Cabrera before the 2005 season to replace David Eckstein they couldn't have thought they were making a mistake. Cabrera had a huge 2003, won a World Series in 2004 and, at 31, was in his prime. So, imagine their surprise when he fell flat on his face in his inaugural season at the Big A and their chagrin when lil' Eck won the World Series MVP award last fall. Cabrera was better in '06 and needs to, at least, repeat that performance for the Angels to make good on my robust prediction for them.
Why haven't I talked more about the pitching? Hey, back off invisible questioner! I talked about Lackey and Weaver and mentioned the spastic Colon's ongoing physical ailments. But you're right; I've paid short shrift to the division's best rotation. Ervin Santana has 28 wins over the last two seasons and Kelvim Escobar has finally found a home near Disneyland after many years wandering through training rooms and bullpens across the major leagues. They round out that rotation and are ably backed up by a deep bullpen. Francisco Rodriguez still has a terrifying motion that makes me think Tommy John Surgery every time I see it but he's done nothing but thrive as closer and he's got quite the corps of set-up men. Scot Shields is the most consistent middleman in the majors, Justin Speier did well with Toronto and Hector Carrasco and Darren Oliver have filled all kinds of roles for all kinds of teams. It's a good group.
1 Kid On The Farm (For Now)
You know all those offensive troubles we talked about above? The Angels believe they have a silver bullet for solving them in Brandon Wood. He will start the year in Salt Lake City so that he can make the transition from short to third and unless he suffers an unforeseen malady he should be in the big league lineup sometime in July or August. He has the power that the big league crew is lacking and plays short well enough to project as a good third baseman as well. Wood, Kendrick and Weaver are the building blocks for the next decade which should start this season.
1 Prediction About Their Finish
The dirty little secret of the AL West is that it isn't a particularly good division. The Red Sox and Yankees obscure a good Toronto team in the East and four Central teams can lay claim to hopes for the postseason but out West the seriously flawed Angels are my pick to go on to October. And it wasn't a particularly difficult choice. The A's, Mariners and Rangers are all lacking the requisite abilities to impress while the Angels, at least, have an elite pitching staff to give them a luster of accomplishment. The offense could come around, though I have serious doubts, but even if it doesn't the rotation should carry the Angels past 85 wins and into the second season with a puncher's chance of making good on Sports Illustrated's prediction of a World Series championship.