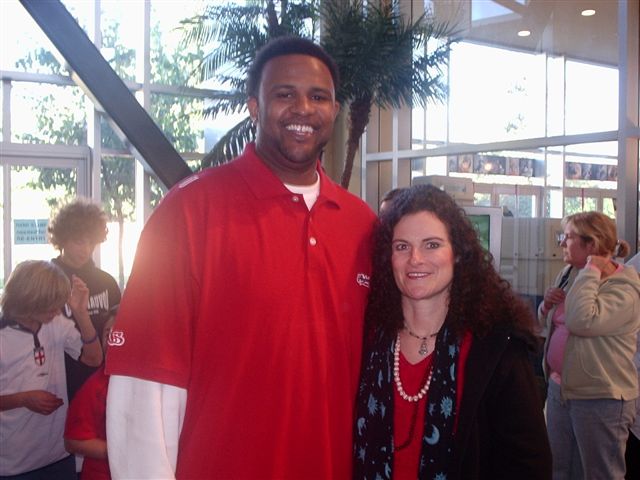 Most of your baseball previews are playing their hearts out but they stop at 10. Where can these other blokes go? We like to push things over the cliff at The Feed though so you know what we do? That's right. We turn it up to 11. Three things to like, three things to worry about, three questions to answer, one kid on the farm and one predicted finish. That adds up to the most powerful preview you can find. Because it goes to 11 and there's none more louder, really, than 11. Check the rest of 'em out here.
3 Things To Like
Travis Hafner. A broken right hand cost him a month and a shot at 50 homers but couldn't keep him from a third straight season near the top of the list of best hitters in baseball. At 30 he's no longer in the ascent phase of his career but should be able to keep producing at a steady clip for three or four more years and, more importantly, should still be a world beater this year.
C.C. Sabathia. An improvement in the defense behind him should help the large lefty have more than 12 wins to show for his low walk rate and diminishing ERA. He will never be the most durable pitcher so you'll have to take his 28-30 starts of high quality over three or four more of less polished work. It's worth it at the end of the season, Sabathia can throw.
Grady Sizemore. One of my greatest regrets is okaying a deal that sent Sizemore from my rotisserie squad to a rival in a deadline deal to try and win the league. We came up just short and Sizemore, a draft day steal at a $1, has used his power-speed mix to make me look like quite the fool. Real or fantasy world, Sizemore's taught me the lesson of patience.
3 Things To Worry About
David Dellucci and Trot Nixon. One or the other would have been a worthy addition to the lineup. I'm partial to Dellucci because he's not as much of a walking bruise but in each case they are repeating a skill set (lefty swinging corner outfielder) already held by the holdover Shin-Soo Choo. All three would lose at-bats to the likes of Jason Michaels and Ryan Garko in platoons anyway why not save the bones for the bullpen.
Joe Borowski. They lost their safety net when Keith Foulke walked away before camp opened meaning that free agent pickup Borowski, who failed a physical in Philadelphia, has to shine as the closer if the Sons of Geronimo hope to contend. Borowski is very good, don't get me wrong, but he's fragile, failed in his last go-round in the American League and all the Indians have.
Andy Marte. He went from future star to future starter over the course of two trades and middling AAA production. His 178 big league plate appearances raised eyebrows that even the future starter label could be a bad fit. The third base job is his, though, so we'll find out all that and more in 2007. If he doesn't turn out to be worth his advance billing and Kevin Kouzmanoff makes San Diegans forget about Bryan Fantana's Octagon, Indian fans will have a new reason to hate Rachel Phelps.
3 Questions To Answer
Did the misplaced H go to Jhonny Peralta's head? A rookie surprise became a sophomore disappointment and is a key player for the Wigwammers in year three. He had laser eye surgery in the offseason, so hopefully those 152 strikeouts are a thing of the past, and the team upgraded the players around him so he has no excuses defensively. With Sizemore, Josh Barfield and Victor Martinez the Indians have the makings of being very strong up the middle but only if Peralta is back to his rookie ways.
Is the rotation solid or something better? We've talked about C.C. and Jake Westbrook, the number two, is another outstanding hurler. He may be even better with the defense boost, thanks to a 62% groundball rate. But Cliff Lee took a big step backward last season and will start this one on the DL, Jeremy Sowers doesn't strike out enough batters to be a safe bet for lasting success and Paul Byrd gobbles innings, nothing more nothing less. Assuming Lee comes back and isn't terrible, the rotation should be good enough but they may be in the hunt for a starter come July if they want to make a run at the title.
Are they short a righty bat? Casey Blake and Jason Michaels are nice platoon players and with Nixon and Dellucci in the outfield corners the Tribe would be in good shape. That is, they would be in good shape if they weren't counting on Blake as an everyday player and the underwhelming Ryan Garko for half duty at first base. They may have been better served signing a righthanded or switch-hitting alternative to Nixon for their $3 million.
1 Kid On The Farm (For Now)
Adam Miller would be in the rotation of a lot of teams this April after dominating AA as thoroughly as he did last summer. He will start in AAA, and did have some arm issues in 2005, but should be pushing Byrd and/or Sowers at the back end of the rotation before Bastille Day. He struck out more than a batter an inning, gave up barely a baserunner per inning and would have been an above average major leaguer last summer. He could be an ace by 2009.
1 Prediction About Their Finish
Like most people I like the moves the Indians made this offseason. Barfield is a big improvement from Ronnie Belliard and Borowski, Roberto Hernandez and Aaron Fultz will make the bullpen a happier place. I do have questions about Marte, Blake and Nixon, though, and wonder if there's enough pop in the lineup or the rotation for them to make it past the Tigers into first place. They will be part of a fierce fight for that spot and the wild card though.