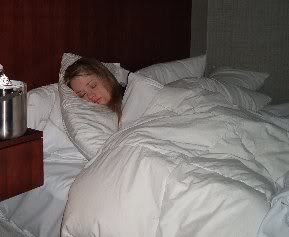 After a quiet couple of days, Duaner Sanchez gets us back on track by approaching his rehab from last season's cab accident with the same relish that Tim Hardaway has for Broadway musicals. Sanchez couldn't seem to find his way to Mets camp on time and earned the ire of his manager Willie Randolph. Judging by his rotund physique, the all-you-can-eat buffet at the Port St. Lucie Shoney's was keeping him from getting to the trainer's room a the required hour. Randolph kicked Sanchez out and told him to get back on track and the reliever showed up on Friday before his 8 AM meeting with the skipper. MetsBlog has the transcript of Randolph's comments,
"It was very productive…I'm glad we had a chance to sit down and talk face to face. He understands now, he understands his responsibility and he showed remorse and he understands now that he needs to get with the program and I'm confident that he will…we're ready to move forward, and get him ready to pitch. He heard me loud and clear. Again, he showed a lot of remorse, he was sorry, maybe a little bit emotional…but I think he understands now his total commitment to and responsibility to this team. We'll see moving forward, but I'm confident that he understands that this is a team and that we are all working under the same umbrella."
Maybe a little emotional = cried like a little girl who lost her dolly.