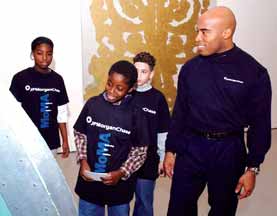 Why anyone in the City would look anywhere but to Pat Kiernan, Roger Clark and the rest of the crack morning news team at NY1 is beyond me but if you like a little dishonesty in the morning NBC should serve you well. Tiki Barber isn't going to let the end of his football career stop his undermining of Giants head coach Tom Coughlin. The newest member of the Today Show team told an assemblage of reporters that the coach was to blame for the early end to his professional football career.
Barber several times suggested Giants coach Tom Coughlin set the wheels of his retirement in motion because of the "physical grind" through which he put players. Which led to an obvious question for the reporters who gathered at 30 Rockefeller Plaza along with the network's top news and sports executives...Barber first invoked Coughlin by saying, "The grind started to take a toll on me and the principles of our head coach started taking a toll on me, so I started looking for the next thing."
Imagine that, a career as an NFL running back is physically demanding. I'm really pretty shocked to hear that. I always thought the reason that the average career for one of them was about the length of an episode of Full House was because they found something they wanted to do more than they wanted to run the ball. Barber then went on to talk some more about his former coach, starting with an answer to the question about whether or not a different coach would mean he'd still be playing.
"Possibly, but that's speculation," he said. "I don't know. I'm 31 years old. I'll be 32 this year, which is way past the average for my position."

"It was a constant physical grind on me that started to take a toll. While it didn't show up a lot on Sundays because I had my three best seasons under him, and I give him a lot of credit of that, I could feel a difference."

Barber said the team practiced in full pads all season despite numerous injuries and said that eventually "you physically don't want to be out there when your body feels like you do in full pads. While it probably doesn't have a really detrimental effect on how you practice or play, it does on your mind, and if you lose your mind in [football], you lose a lot."

Barber said he discussed his concerns with Coughlin and the coach gave a little, such as when Barber told him he could not go full speed in some practices. Still, it was not enough.

"He has changed in little ways," the former running back said, "but I think he still has to come more. The game has changed. Players are different, and you have to understand them and get to know them in order to encourage and motivate them to be successful. Twenty years ago it was different. You could push a player until he broke down because you had 15 other guys who could come in and take his place."
So you had your three best seasons playing for him, he gave you special consideration when you asked him to and you probably would have retired no matter who the coach was, why then, Tiki, did you feel the need to slam the guy on your way out the door? Is there no part of you that realizes that those three seasons under Coughlin are the reason why anyone gives a witch's tit that you retired in the first place? Barber sounds like Paris Hilton on an episode of that show when she had to do an honest day's work. He wanted to be free from practice and workouts and everything else because he had art galleries to go to and book parties and interviews to give not because he was in any physical pain. His play belies everything he's saying like when a spoiled little brat whines that his parents didn't say I love you the right way.
Barber's final comments offer some insight as to why such a "classy" player would behave like a jilted lover with an ax to grind on a day that was supposed to be everything that he wanted in life.
"Coach Coughlin was nothing but great for me as a player, but the grind took its toll on me and it really forced me to start thinking about what I wanted to do next," he said.

"That's not a bad thing. That's a good thing. At least for me it is. Maybe not for the Giants, because they lose one of their great players."
It's all about Tiki all the time. I don't know who will be the starting running back for the Giants next season but I'm pretty sure they're better off without this two-faced, selfish prick on their team.